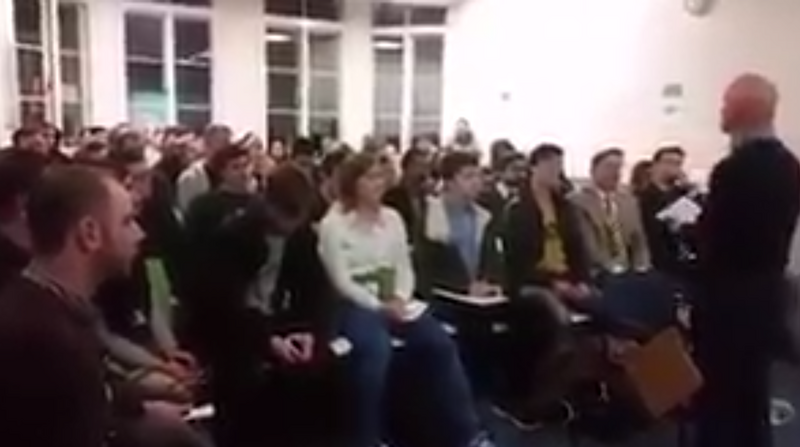 A student who tried to attend a talk held at King's College London (KCL) for the former head of Israel's secret police has told The Electronic Intifada that she was assaulted by a pro-Israel King's student.
Ami Ayalon once led the Shin Bet, Israel's internal spy agency, which has a long record of torturing and murdering Palestinians, including civilians.
Despite media coverage claiming Tuesday's talk was disrupted by "violent" pro-Palestinian protesters, students speaking to The Electronic Intifada have given a very different account.
University College London law student Rawand Safi said she was punched on the shoulder by a pro-Israel King's student after peacefully protesting being denied entry to Ayalon's talk.
She was clapping and chanting "Free Free Palestine" with the group when a male wearing a KCL lanyard began mocking her and then punched her. Safi reported the man the police, who had turned up soon after.
But they refused to arrest him, taking his word over hers. Press reports say no arrests were made that night.
Safi told The Electronic Intifada in a call that she went along with a group from the Palestine Society of the School of Oriental and African Studies, intending to attend the talk and question Ayalon on his record of torture.
Denied entry
Safi said that the entire group were denied entry to the event by Esther Endfield, the president of KCL's Israel society. She picked out apparently pro-Israel students over others who'd been waiting to get in, saying "I'm making room for you."
Despite Endfield's denial of entry to students who wanted to challenge Ayalon on his record of torture and war crimes (he was also once head of the Israeli navy), she then proceeded to lecture them on how they should have come into the room to ask questions, Safi said.
In a posting to Facebook, Endfield said, "what if KCL Action Palestine would have come to [the] event with questions and challenged the speaker[?]"
Safi also wrote on Facebook about the student who assaulted her.
Students say that it was only after being denied entry to the event that things turned into an impromptu protest.
A member of KCL Action Palestine's committee told The Electronic Intifada that media accounts of windows being smashed and chairs being thrown were untrue.
The committee member did not want their name published for fear of persecution by college authorities.